Cut through your competition
This striking blue Performance Thumbstick™ set features a sharp, eight contact point design that was laser-etched for exceptional grip. It pairs two different height thumbsticks for maximum comfort and accuracy. The high-rise FPS hybrid thumbstick (10.49mm PS4 / 10.63mm XB1) increases arc distance by 120.8%(XB1) / 142.3%(PS4) and is designed for aim and accuracy on your right analog. The low-rise alpha thumbstick (5.96mm PS4/ 5.92mm XB1) has a convex dome for control and comfort on your left. The combination allows for quicker and more precise target acquisition, creating the perfect advantage in the fast-paced world of competitive online play.
Edge is available for PlayStation 5, PlayStation 4, Xbox Series X|S & Xbox One, Nintendo Switch Pro.

ENGHANCED GRIP
DON'T LET THEM CATCH YOU SLIPPIN'

INCREASED ACCURACY
ZERO IN ON THE TARGET

ADDED HEIGHT
PERFECT BALANCE OF GRIP AND ACCURACY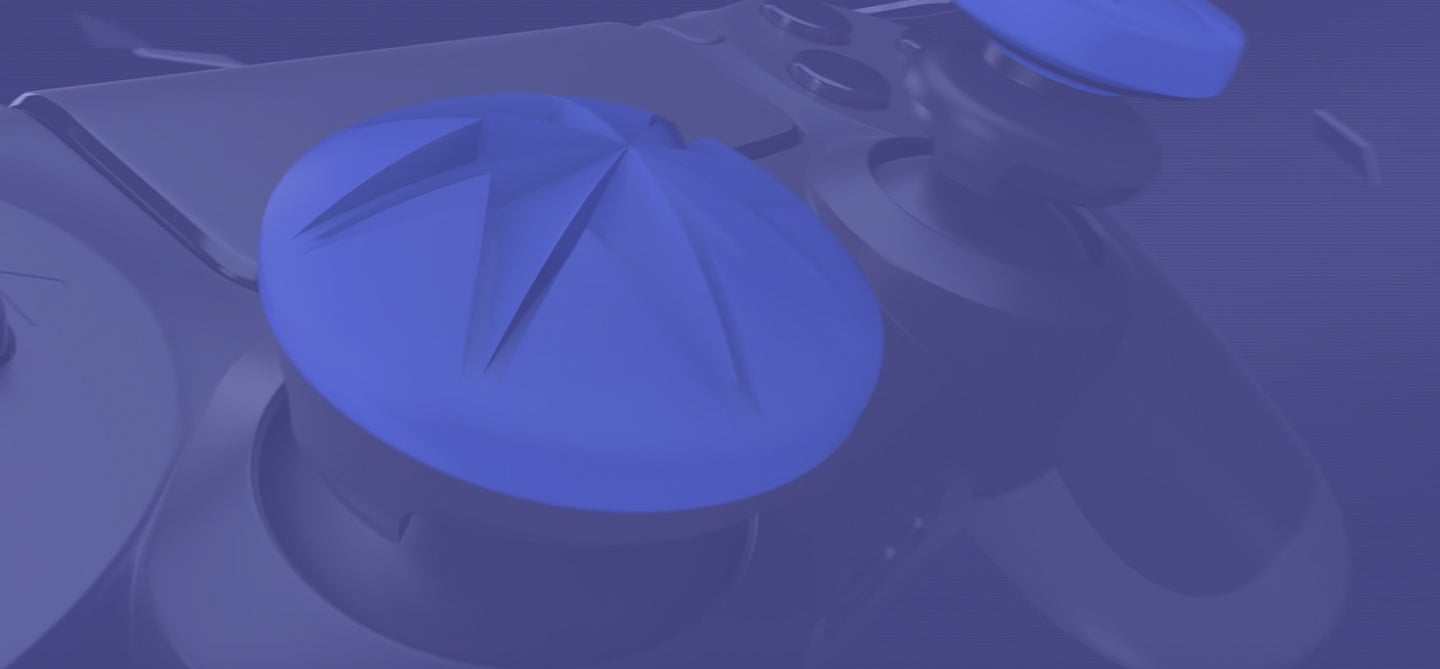 Product Specs

Left Stick:
Convex
Height: 5.96mm
Laser-Etched Design

Right Stick:
Convex
Height: 10.49mm
Laser-Etched Design
From the Experts:
Striking blue-on-black color scheme features a sharp, eight contact point design that was laser-etched for exceptional grip
– Mixed height combo for faster target acquisition and increased precision on the right, as well as better control and maneuvering on the left
– One high-rise, hybrid thumbstick that adds 10.4 mm for increased accuracy on right analog
– One low-rise, convex (domed) thumbstick on the left analog for enhanced control with in-game movement while adding a nominal height of 5.9 mm
– Proprietary rubber compound enhances grip, comfort, and reduces slip
– Requires less force which reduces wrist, hand and thumb fatigue
-Now with a 4th prong for extra stability
Cut through your competition with KontrolFreek's FPS Freek® Edge. These Performance Thumbsticks® pair one high-rise FPS hybrid with one low-rise convex (domed) to give you the ultimate advantage in accuracy, comfort and grip.
90-day Returns
Extended Money Back Guarantee
Free shipping on all orders $25+
Available in most countries worldwide
Trusted by the pros
Approved for tournament use